Customer Reviews
11/13/2021
Karen &.

Canada
Will never find another back pack better than this one!
The absolute best back pack. Ever. We customized it with our two frenchies' faces for our human kid to use for school. She LOVES that she gets to carry the pups on her bag to school every day and shows it off to all her friends and teachers. The tie dye is the perfect background colouring and the extra pockets are exactly what we need to hold smaller items in place. We also alternate accessories on it with a couple frenchie pins or buttons!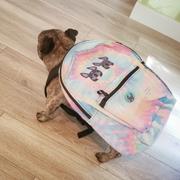 04/22/2021
Susan S.

United States
Super Cute Tie Dye Custom Backpack
Super friendly customer service, quick response to questions, custom bag to look like my pups. A+++++ products!
04/17/2021
Jessica T.

United States
OBSESSEDDDDDD
First and foremost, Jamie and Romeo are WONDERFUL! I emailed Jamie asking if there was a way to add a stripe to one of the two Brindles I had planned on having printed on the backpack and without hesitation she said yes! She created the design and emailed me a mock-up. It was perfect! Now I have both my Eggsy and my Captain on my backpack and everyone can tell they are two different pups. I get compliments left and right from frenchie owners and non-frenchie owners. I use it everyday for work. It's spacious and well made. I am obsessed with it! I cannot thank Jamie and Romeo enough for making such amazing products!